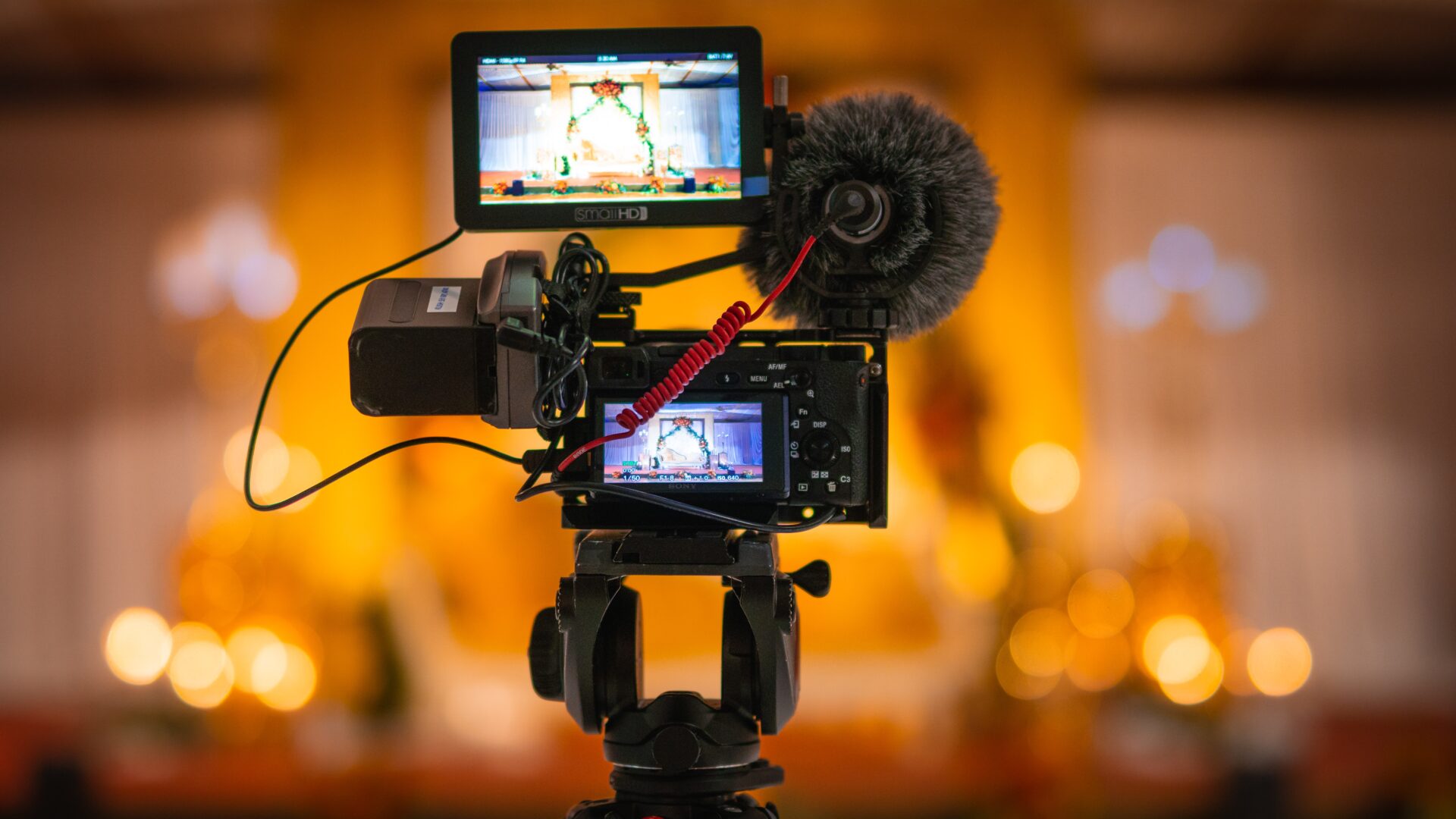 At High Note Productions, we specialize in capturing your unique stories through stunning cinematic HD video. With a track record of trust from countless brides and grooms, we take pride in being the top choice for wedding videography. Our talented event videographers possess exceptional storytelling skills and a keen ability to capture the raw emotion of those once-in-a-lifetime moments that you will cherish forever. Let us transform your special day into a cinematic masterpiece.
High Note Productions Videographers Offers:
Highlight Film Showcasing Footage from throughout your Special Day
Vows and Memorable Toasts Footage
Optional Aerial Drone Footage
Optional second videographer for comprehensive coverage of your entire wedding ceremony

Why should you consider hiring a videographer?
The day of any event passes by in a blur, especially when you're the focus of the celebration. Trying to remember, capture, and preserve every moment can feel overwhelming. While photographs are a wonderful way to revisit your event, they can only capture visuals. This is where an event videographer comes in. They have the ability to not only capture the sights, but also the sounds, emotions, and atmosphere of the day. Through their artistic lens, they can immortalize the laughter, dance moves, and heartfelt moments shared with loved ones in a way that no other medium can. The event video becomes a cherished keepsake, allowing you to immerse yourself in the memories and relive the magic of your special day for years to come. Let us create a video package tailored specifically to your needs, so you can hold onto
How to select a skilled videographer for your needs?
When it comes to choosing an event videographer, their work speaks volumes. The quality of their creations is a true testament to their skill and talent. While you may not interact with them extensively during the event, their work is what truly matters. Equally important is their attentiveness.
A great event videographer should have a keen eye for capturing both the intricate details and the unforgettable moments that should not be missed. Lastly, professionalism is key. Your videographer should possess the knowledge and expertise to film the right shots at the right time, seamlessly collaborate with other vendors, and blend in effortlessly with the guests. At High Note Productions, our event videographers excel in all these areas, ensuring that you can trust the results without any worries.
Why work with High Note Productions?
Our utmost priority is to ensure that every moment of your event is captured with utmost professionalism and attention to detail. We strive to create a visual representation that allows you to relive the emotions and joy of the day, bringing a smile to your face as you revisit the memories. When you choose us, you can rest assured that you are hiring the best in the industry. We provide a wide range of options for custom event videography, tailoring our services to meet your specific needs and preferences.
Highlight Film Showcasing Footage from throughout your Special Day: Our team ensures that we meticulously capture every highlight and intricate detail of your special day, so you can relish the unforgettable moments long after the event has ended.
Vows and Memorable Toasts Footage: Our primary goal is to immortalize the funny jokes, embarrassing anecdotes from friends, and heartfelt tears that accompany people opening up. These are the precious moments that often slip away in the hustle and bustle of life and should never be forgotten.
Optional Aerial Drone Footage: If you desire a comprehensive bird's eye view of all the happenings, our skilled event videographers can capture that for you as well.
Optional second videographer for comprehensive coverage of your entire wedding ceremony: By recognizing the limitation of being in only one place at a time, we understand the power of collaboration. When two people work together as a team, they can accomplish exponentially more. That's why we offer the option of providing you with multiple videographers for your event. With this approach, we ensure that every significant moment is captured, leaving no room for missed memories.
At High Note Productions, we strive to simplify the process of planning and customizing your event videography package according to your preferences. Our ultimate goal is to provide you with a breathtaking event video that transports you back to the magic of your once-in-a-lifetime occasion. Moreover, we are committed to assisting you with every aspect of your day, ensuring that all the details are taken care of seamlessly. Get in touch with us today to discover how we can assist you in creating and capturing the event of your dreams.